Cauliflower Pizza Crust with NEW Updates
Tweet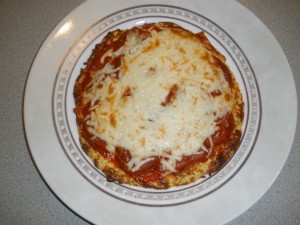 Cauliflower Pizza Crust
This is one of my favorite Medifast Lean and Green dinners. There are so many recipes floating around out there and I have not had great success with mine so I did some research.  I read the Medifast forum and asked some of the experts.
Yesterday I gathered up all my supplies and worked till I mastered both the recipe and the baking techniques

Crust:
1/4 cup Egg Beaters (1/8 Lean)
3/8 cup low fat shredded Mozz or Mexican 4 cheese variety for a harder crust (3/8 lean)
1 cup Fresh Cauliflower chopped up in food processor (2 greens)
dash of Italian spices (optional)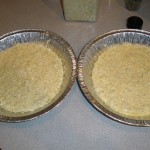 Mix together and put into a sprayed foil pie pan.  Pat down so it all sticks together.
UPDATE I found a better way to cook them using parchment
paper not waxed paper use real cooking parchment paper it makes it easier to
flip.  I fit two to a sheet and then place them onto a flat cookie sheet in the
oven. The flipping goes much easier and then I keep the paper under each one
when freezing so they don't stick and I reheat when ready to eat also on the
same paper. I do cut the paper since there are two before freezing so I can
stack them on top of each other
Bake 15-20 min at 450 till it starts to turn brown then flip it over and bake another 10 minutes.
Top with
2 tsp sugar free Pasta sauce ( 2 condiments)
1/2 cup low fat shredded Mozzarella cheese (1/2 lean)
1/2 cup of veggie (1 green)
Place it under the broiler just till the cheese melts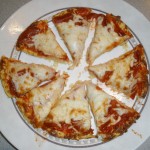 To Freeze Crusts
Let cool and stack in foil tins, wrap well and freeze.  When ready to use let defrost, top with toppings and bake in the foil tin.
UPDATE as stated above I like the parchment paper better than the foil tins.  I also now reheat the frozen crust on both sides in my toaster oven then add toppings and brown.
From one fresh head of cauliflower I got 5 crusts so I ate one for dinner and froze the others for later.
Since I'm now in Transition I can add more on top like turkey pepperonni for my extra lean and more veggies for my extra veggies.
The crusts are so good plain you don't even need to top them with anything. You can also make them like logs and they will be like bread sticks that you can dip into the pasta sauce.
I hope you enjoy cauliflower pizza as much as I do.
I offer FREE Coaching