Tweet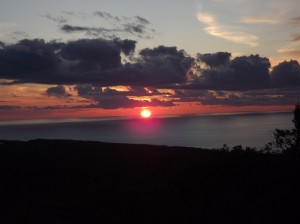 We ended each day with the sunset on top of Brockway MT.
I just got back from 1 week camping in Copper Harbor on the Keweenaw Peninsula in the UP of MI. I never hiked so much in my entire life. 80 lbs ago I would have never been able to do it.  My husband goes to CO every Sept to hike the 14's but I stay home. So he is the expert.
On this trip I had my fitbit on everyday and we both did the same hikes just the two of us.  Most days we never saw another hiker.  We hiked different trails everyday. It's a great place for hiking and biking.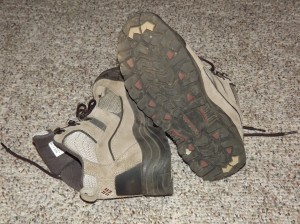 Here are my totals for sun Aug 11th -19th
107,420 steps
554 floors up
47.78 miles
Plus 12 miles of bike riding the fitbit doesn't add that in but I have a computer on the bike.
For some reason I thought the hiking was easier then the bike riding maybe because of the hills or wind.
My muscles or feet never hurt and each morning we got up and found new trails. We picked up a great book that helped us to locate each trail and yes we still did get lost some days but that made it exciting.
I'm not one to have fun exercising and some days the Mountains were no fun but I enjoy taking photos along the way. I'm very proud that I could do it am I'm thankful for the life I have now at goal over 2 1/2 years.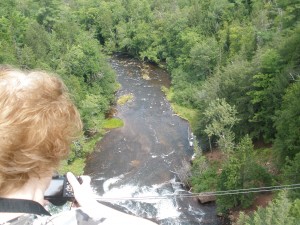 Here we hiked up a cliff to an old railroad bridge to get a good shot of the waterfall.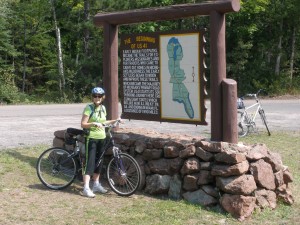 Here we biked to the beginning of HWY 41 where it starts In Copper Harbor UP MI and you can follow it 1990 miles all the way to the other end in Miami FL.
I loved it up there no cell reception unless you were on top of the MT. The internet reminded me of the good old days when you were kept waiting for every page to load.
Tags: Better Health, biking, Copper Harbor, diet, Dieting, Exercise, fast weight loss, fitbit, Health Coach, hiking, mountains, UP MI