Tweet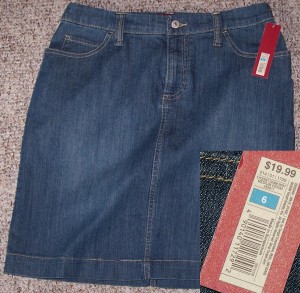 It's a size 6
 While my last post was all about being "DONE" with the weight loss part of this program we all know that watching our weight is something we will continue to do the rest of your lives.
I just finished my first week of Maintenance with no change in my weight.  Basically I more or less just followed what I had been doing in stage 4 of transition with a few small exceptions.  We went out Friday with friends for fish.  I ordered broiled fish with the garlic red potatoes.  On my side salad I just had the house dressing and I also ate the little cup of coleslaw. Then last night I had grilled chicken and brown rice only to remember that I already had my whole wheat serving at lunch so I ended up with 2 servings.
While I do now get hungry in between meals I don't really crave bad choices. I'm overly cautious about having something that's not a healthy choice because I don't ever want to end up back where I started.
I track my food on a little card I made that wipes off and I follow the correct serving sizes and selections for stage 4 transition.  I have not been worried about tracking calories and carbs because I know my selections so far have fallen into the guidelines. If and when I do decide to have something off the usual options I make sure to read the label and track that too.
I got a Denim skirt at Target today in a size 6 and it's loose. It's great to have a larger selection of styles to choose from now.
I worked in the yard a little the past two days and I was happy to discover that yes I do still have muscles. I used muscles I didn't even know I had and now I can barely walk. I guess tackling exercise will be my next journey.
Week one of Maintenance down a lifetime to go.
Contact me for FREE Coaching and ask about Food Discounts!
~~~~~~~