Tweet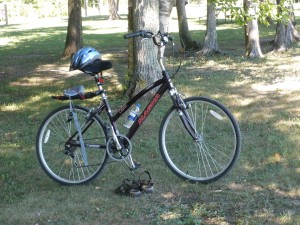 My vacation bike story  Who paid my husband to………….
First some background facts.  I lost -88 lbs, finished transition and have been in Maintenance since April 2010 and I did it ALL with NO exercise.  So now I'm working on that part of my plan. 
My husband and I went for a week long camping trip with the trailer and bikes in tow last week.
Day 1 we started on the bikes with a short trip on a walking path to the beach. It was kind of exciting dodging the rocks, mudd pits and tree branches. It was super windy so the woods helped that.  Well, my Hubby decides we should take the long way home. The trail hurt his back.  It'll be easier on the road he says. OK so the road was smooth but it was uphill and against the wind most of the way.  I remember making the comment that my tires must not be round because they sure don't roll very easy. DH just laughed because he just filled them up and they were as hard as a rock and he was having no problems at all. The last third of the ride was down hill so that's what saved me.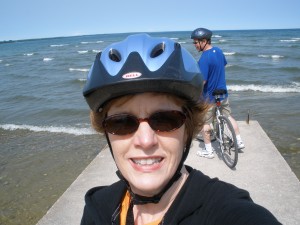 Day 2 we took the car and bikes on the ferry to Washington Island. We drove to the tower.  Climber the steps up the hill side 116 of them and then another 65 up to the top of the look out tower then back down all 181 steps. After a picnic lunch at the beach we got on the bikes. Another super windy day and I had some sore leg muscles but I was going to do it. He made it look so easy and granted he does have an expensive light weight bike with a gazillion gears.  My bike has 7 gears and only the lower 6 work humm. There were times that I was going so slow up hill I was amazed I didn't fall over. Again I noticed how others would just wiz right by me with no effort.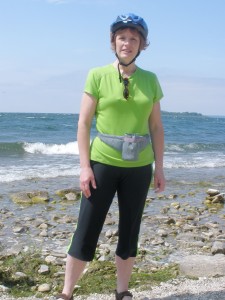 Day 3 we took the bikes out to the state park to ride the sunset trail.  10 miles of hard packed trails in the woods.  I loved it but I still needed to get off my bike a few times to get up some hills. Most everyone else could ride up them in low gear but I figured it's just because I'm out of shape I'll get better. After lunch we climbed another tower 107 steps up and back down again.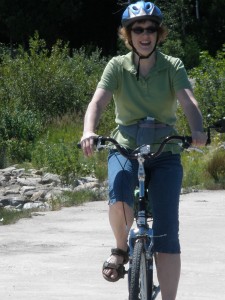 Day 4 we walked out on the break water to a light house and back and then took a bike ride between parks and then further along the shore.  It was pretty windy but I did better and stayed on my bike the whole time. We did have to climb one last tower 100 steps up and 100 back down again.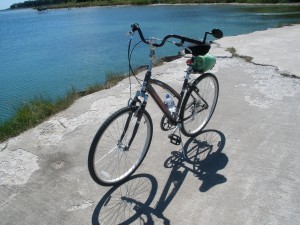 Day 5 we went back to the park to do the 10 mile sunset trail again and I still needed to walk up a few hills.  By this time I have been noticing that the only time my bike rolls is if I'm pedaling, the bike really doesn't coast.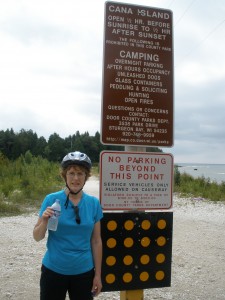 Day 6 our last day of activity so we start off the morning with a short road ride to the local resort on the water. Once again I comment on how I don't think this bike works right. With my feet on the ground straddling the frame I pull up the handle bars raising the front tire and my husband reaches over to spin it and the tire spins and comes to a dead stop.
OK, so who paid my husband to rig my bike with the front brake on? Fess up. I know it was one of you. LOL
His remark was look at all that exercise you got. Like the 35 miles of bike riding, hiking up all the towers and the walks to the sunset every night weren't enough exercise?
He played with the brake and got it to release my front tire.  Oh my gosh.  What a difference that made.  It was like a whole new experience riding that bike back to the trailer. I coasted half the way home. I felt free and light as a feather with the wind on my helmet.  I even lead the way.  Then we drove the car out to the Cana Island area got on the bikes and road around the area for the afternoon. Never once did I have a problem getting my bike to roll.
Moral of the story always check your bike out before you go for a ride.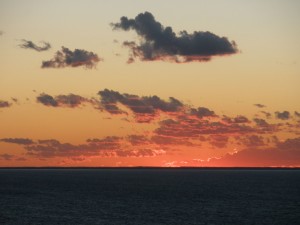 To learn more about the Miracle I found for fast Safe Weight Loss visit
I'm a Free Health coach ask about discounts and free food and shipping
Good health and long life!