Tweet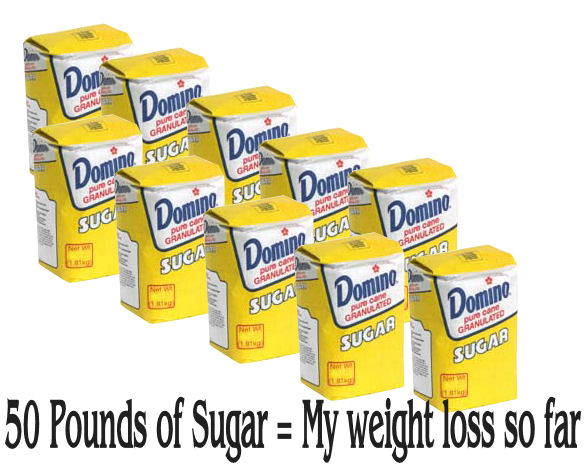 Today is NOT my regular weigh in day. I do weigh myself everyday but I only record it on Thursdays. Last Thursday I was down 49 pounds so I was just waiting for that magic one pound loss so I would be at an even 50.  Today was the day 50 pounds lost in 16 and a half weeks.
If you read this blog you may know my story if not here it is in a nut shell.  I tried for seven years after ovarian cancer surgery to loss weight.  Maybe I should say I tried everything to stop gaining weight.  Every season I would have to go buy new clothes in larger sizes.  Nothing worked I couldn't even loss ONE pound, just kept gaining.  The doctors had no answers for me and I went to sevral.  Still I kept trying and working at it.  After my doctor doubled my cholesterol meds my liver enzymes elevated and she wanted to add yet another cholesterol med.  I said give me 3 months and I'll come up with something.
When I went back in not only had I lost weight but my cholesterol test was so good she took me off my meds. She wanted to know what I did and I told her all about Medifast.  It's been around for 30 years but there are a lot of people that have never heard of it before and I was one of them.
Medifast was the answer to my prayers and I now am using what I know to help others to lose weight and get healthy too. As a Take Shape For Life Health Coach I offer my coaching service FREE of charge to clients wanting to lose weight and learn how to keep it off for life.
I love Medifast because it works!
Want to learn more about this great program?
~~~~~~~~~~